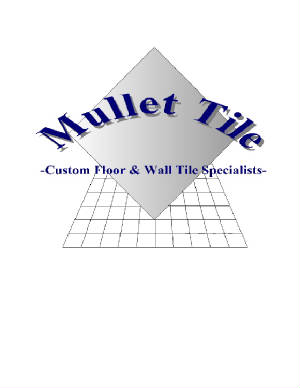 Welcome to our web site!

We are a family oriented business for over eighteen years in the floor covering industry.
We, at Mullet Flooring, specialize in the design and installation of Custom Tile in both Commercial and Residential settings.

*For our Construction Contractors we offer a complete custom flooring and wall tile management package that can be custom fit to your company needs (Please see our services page for a more complete list of the options we can do to ensure a successful project.)
*Our experience lies in the complete management of the Installation process beginning with the Design to the Project Management and through to the Customer Satisfaction and follow up.
*We have access to top quality installers of tile and stone for floors, walls amd ceilings including, but not limited to Glass Tile, Marble, Granite, Slate, Travertine, Limestone, as well as quality installers of hardwood, vinyl and carpet.
*We also offer a service for custom murals to be mounted on a board and framed out to be hung as an art piece on your wall.
*In our shop we are able to custom cut tile patterns in practically any shape or design to personalize the custom design and installation in your home or office.

Give us a call to arrange for an in home design consultation and estimate. We would be happy to help make your home an original, custom work of art. Thank you for your interest and we look forward to speaking with you...